JOSEPH McKENZIE, known by many as 'the Father of Modern Scottish Photography', was one of the most important, ambitious and prolific photographers of the post war period.
Born in London in 1929, Joseph McKenzie was educated in Hoxton, and during the war at Cranborne, Dorset. In 1947 he joined the R.A.F. as a photographer (1947- 1952) and was part of the exclusive aerial reconnaissance team operating over Eastern Germany during the onset of the Cold War period. He studied photography at The London College of Printing from 1952-1954 where he excelled and was invited to introduce photography as a full time lecturer to St. Martin's School of Fashion, London, in 1954. In 1964 he was appointed Lecturer in Photography at The Duncan of Jordanstone College of Art, Dundee, a post from which he prematurely retired in 1986. He was elected an Associate of The Royal Photographic Society in 1954 (resigned 1973), and in 1969 gained third prize in The Nikon International Photographic Contest as well as becoming the first living photographer to be awarded a grant by the Scottish Arts Council. He was a pioneer of photography during the 1950/60's and was the first living photographer in the UK to have a one man exhibition however suffered all the tolls of the lack of respect for the medium as art which existed at the time.
In his public years, he carried out freelance commissions in support of his essays, including a feature for the designer engineer on completion of building of The Tay Road Bridge, Glenlivet Distilleries, The Jute Industry Group, and the social effects of North Sea Oil, plus many portraits of public figures, including HRH The Duke of Edinburgh and Lord Mountbatten.

In 1965, he commenced a series of major exhibitions with GLASGOW GORBALS CHILDREN 1964-65, shown in Edinburgh, Dundee and Dunfermline. This was followed by DUNDEE - A CITY IN TRANSITION (1966), a study he made to commemorate the opening of The Tay Road Bridge.

In 1967-68, DUNFERMLINE AND ITS PEOPLE was shown in that town; then in 1969, CALEDONIAN IMAGES was toured throughout Scotland, by The Scottish Arts Council. In 1970, Joseph McKenzie's controversial study HIBERNIAN IMAGES (1967-69), provoked a deal of criticism and an attempt to censor the photographer's catalogue statement. As a result of this, McKenzie withdrew from public exhibition of his works.
In l974, Joseph McKenzie established The Victoria House Gallery of Photography in his home at Tayport, with a permanent installation entitled HOMELAND. This gallery was closed in l980.

During his publicly active years, Joseph McKenzie produced a substantial body of work, primarily in the form of five major exhibitions, each of a minimum of 200 prints. His art is founded upon the solid basis of a quite superlative technique, one of the most outstanding of any British photographer, living or dead.
He utilises every type of camera, from 8 x 10 view to 35mm, his small camera technique in particular being exceptional. His broad technique is matched by wide ranging subject interests. Landscape, streetscape, social documentary, portrait, and even personal family snap-shots are all integrated into the McKenzie world view. His work, therefore, represents not just a documentary view of British society, but something more, a record of the artist's experience, a passionate commentary upon human existence.
Unlike many British photographers, Joseph McKenzie does not relate to the European 'photojournalistic' tradition. Rather, he is closer in attitude to the great American humanist artist-photographers, such as Paul Strand or Ansel Adams. Like them, he combines aesthetic with ethical and political concerns. Like them, his work is much more monumental and static than fluid European small camera work. It is metaphysical rather than existential in tone.

The images of Joseph McKenzie are represented in a number of public and private collections. Amongst the public collections having holdings of his work are The Carnegie Dunfermline Trust, the Scottish Arts Council, the National Portrait Gallery of Scotland, and The Victoria and Albert Museum, London.
McKenzie was not only a great photographer; he was a master in the darkroom; an eloquent writer and poet. When the complex threads of McKenzie's work are unraveled, it can be seen to be amongst the most ambitious attempted by a post-War British photographer. It is quite clear that he is a highly distinctive and original voice in British photography. A man who forwent the opportunity of fame and fortune for principal, honesty and integrity.
Joseph McKenzie died at Ninewells Hospital, Dundee on 5th July. An amazing man, photographer, teacher, writer and poet who has inspired so many. He will be missed, but his incredible legacy will live on.
Calum Colvin
'A brilliant photographer and a generous teacher, he taught me a huge amount and helped me establish my career as a photographer (along with countless others including the massively famous Albert Watson).'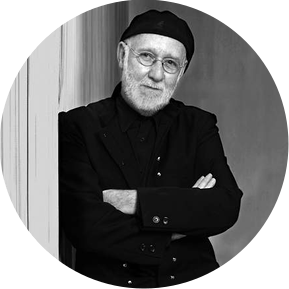 Albert Watson
'Joe was a huge influence on me and he instilled agreat love of printing one's own work which I do to this day. On June 25th I went to Buckingham Palace to recieve an OBE for achievements in photography...In the beginning Joe put me securely on the road to that end.'